In addition, your purchase here will help Helen continue her work with Adventure Classroom.
Charlie - The Hero by my Side
Helen's photos throughout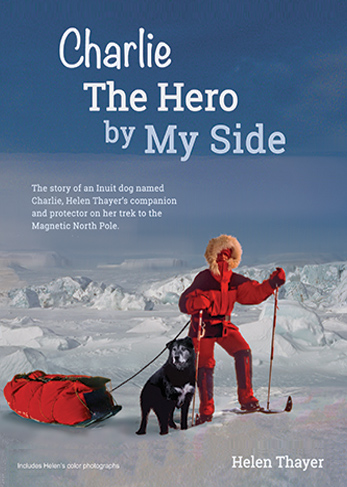 Charlie came into Helen Thayer's life when she set out to ski alone to the Magnetic North Pole. Helen was a 50-year-old explorer with a dangerous trek in mind. Charlie was a nameless Inuit sled dog who deserved a name and a better life. Helen Thayer gave him both. Together they traveled 364 miles to circumnavigate the Magnetic North Pole region. Charlie's loyalty and courage never wavered as they crossed unstable dangerous Arctic sea ice, endured violent storms, and defended against polar bears who can hunt humans for food. Seven times Charlie confronted hungry bears, each time ready to give his own life to protect his companion. Helen contributes her survival on this arduous journey to the Pole to Charlie.
Later, Charlie joined Helen and her husband Bill to spend a year above the Arctic Circle to study three wild wolf packs. Being part wolf, Charlie proved to be an essential team member and was accepted as a trusted friend by the wolves. This led to acceptance and close interaction between the wolves and their human observers.
Charlie, once a nameless sled dog, earned a lifetime of love and devotion from his human companions, and secured a place in canine adventure history.
Available in two versions
Trade paperback - 6x9 black/white photos - $29

Collector Edition - 8.5x11 color photos - $55


---
Polar Dream: The First Solo Expedition by a Woman and Her Dog to the Magnetic North Pole
National Best Seller Forward by Sir Edmund Hillary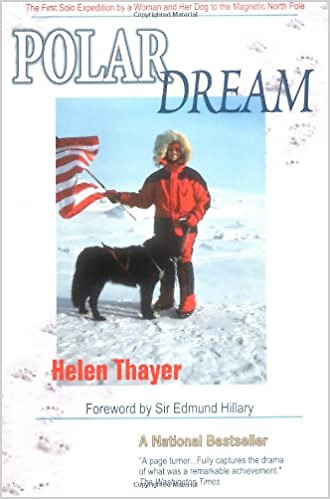 At the age of 50, Helen Thayer was the first woman in the world to travel alone to any of the world's Poles when she skied to the Magnetic North Pole without the aid of a dog team or snowmobile in one of the world's most remote and dangerous regions. Her only companion was Charlie, her loyal husky, who was integral to her survival. Polar Dream is the story of their heroic trek and extraordinary relationship as they faced polar bears, unimaginable cold, and a storm that destroyed most of their supplies and food. A new epilogue, maps, and many previously unpublished expedition photographs are new to this second edition. Published by New Sage Press.
US$25 Paperback
"A page-turner.... Fully captures the drama of what was a remarkable achievement."
—
The Washington Times

$25

---
Three Among the Wolves: A year of Friendship with Wolves in the Wild
Finalist at the Banff National Book Festival 2005.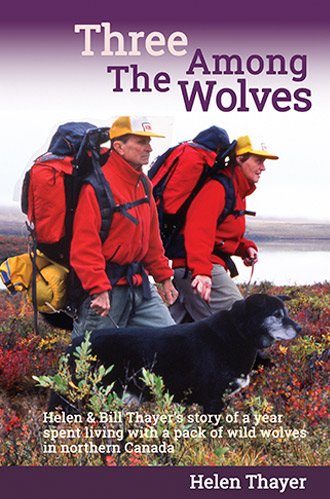 Helen Thayer and her husband Bill, hiked above the Arctic Circle in the Canadian Yukon Territory to live for six months one hundred feet from a wolf den to observe and document their daily lives. They returned in the winter months to interact with and document the lives of wolves and polar bears on the frozen polar sea and the vast Mackenzie Delta in Canada's frozen north.
This book is both a natural history of wolves and adventure tale. Far from being the vicious killers of popular imagining, the Thayer's found that wolves form loving family bonds in a world that offers them neither safety nor understanding. Published by Sasquatch Books.
US$25 Paperback
"Thayer has the spirit of adventure that matches any of her predecessors. And all that is evident in this lively book. She is recognized by those that know her as one of the most important living explorers."
--
Statesman Journal

$25
Note: older edition may be ordered on line from Amazon or Barnes&Noble - Links below

---
Walking the Gobi: A 1600-Mile Trek Across a Desert of Hope and Despair
Helen Thayer and Bill Thayer, a two person husband and wife team, became the first man and woman to walk the entire length of 1,600 miles, west to east of the Mongolian Gobi Desert. Violent sand storms swept across the desert creating a wall of choking, black dust and yellow sand that blocked out the sun, stopping all in their path. For seven life threatening days the two were down to quarter rations while they desperately searched for water in heat up to 126 degrees. At one point they were arrested and interrogated by border guards; scorpions were their daily companions.
This is a story of courage, perseverance and the ability to rise above adversity. It is also a story of the Thayers' close interaction with the Gobi Desert Nomads who still live the centuries old lifestyle of their ancestors. The Thayers shared family gers, ate Nomad food and helped herd animals. They milked camels, goats and horses and learned first hand desert shamanism medicine.
Helen says, "I first heard of the Gobi as a 13 year old growing up in New Zealand. Then the Gobi was as far away as the moon; now at 63 the dream has come full circle." Published by The Mountaineers Books
US$25 Paperback

$25

---

---
Buy direct or from:


Content © Helen Thayer
website: 3hats.com / Seattle